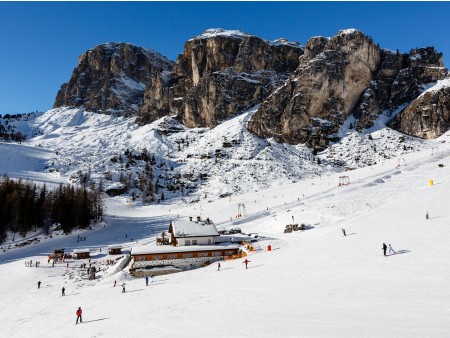 Ski opening Corvara
Ski opening Corvara. The largest Dolenjsko - Slovenian Party in the Dolomites. Celebratory evening with DJ and dinner, KOK BAND concert, after party.
Price per person:
290,00 €
Ski opening Corvara
Colfosco
Colfosco (The Ladinians call it Calfosch) It is the highest-lying settlement in the Alta Badia region, lying at an altitude of 1,645 meters above sea level. It is known as an excellent tourist destination, where you can enjoy the beauty of the Dolomites throughout the seasons. It is located near Corvara at the foot of Sella Mountain and is part of Puez-Odle Nature Park.
Colfosco was originally a mountainous settlement, but herdsmen and farmers began to stay here, creating a permanently populated village. Until the 19th century life was very difficult here, mostly related to mountaineering and forestry. Colfosco now has a population of about 500. Tourism and related activities are definitely The main industry in the area.

Corvara
It is a small town of about 1,500 inhabitants and lies just under 100 meters lower than Colfosco. As a larger town, it is also the seat of the municipality, the town has a kindergarten and a school and is the center of the Dolomites' shipping culture. At the end of the 19th century, the region was discovered by mountaineers and later by skiers. The beauty of the region was transmitted across borders by English geologists exploring the Dolomites.
The first ski school was established shortly after World War I, the first ski lift was erected in 1938, and in 1946, the first chairlift in Italy -
the Col Alto chairlift - was erected there. In the '70s, the region was rapidly developing into a world-renowned ski resort.
Now Corvara and Colfosco together are without a doubt the most famous tourist destination in Alta Badia with modern skiing and other facilities, excellent accommodation and plenty of entertainment. This region is one of the most desirable tourist destinations in the Alps. In the Alta Badia region, there are about 2.2 million overnight stays, of which approx. 1.3 million are made during the winter season and the rest in the summer.
The ski resort boasts really impressive stats:
• More than 500 km of slopes included in the Sellaronda and Dolomites Superski systems;
• 54 chairlifts, ski lifts,…
• Snow Guarantee;
• Over 1.3 million overnight stays during the winter season;
• More than 10 ski schools.
Accommodations are a special chapter in both Corvara and Colfosco. Although they must be labeled according to the standard classification in force in Italy, you can "add" at least one asterisk without any fear. All apartments are extremely personal in design, where classical ship architecture is pleasantly intertwined with modern solutions. Beautiful, homey, functional, clean and cozy - these are terms that describe apartments and also hotel rooms.
If nightlife in Colfosc is more limited to hotel and residency parties, the larger Corvara has significantly more to offer in this area. There are quite a few bars and clubs in the town that have long outgrown the borders of their place and are among the best in the alpine part of Italy in terms of quality. Great bartenders will surprise you with unusual cocktails, and DJ with the music currently most listened to in major clubs across Europe.
PRICE: 290 €
Price ncludes:
4 x overnight in apartments
4 x ski pass
introductory evening with DJ and dinner
koncert KOK BAND
after party
Aditional offer:
Medical insurance with assistance 9,50 EUR per person
other Ski opening offers

San Martino di Castrozza in Italy is an increasingly popular ski destination for Slovenes, Croats and Austrians with easy reach within a few hours by car
Price per person:
269,00 €

Ski opening in San Martino di Castrozza in Italy in the Dolomites. Residence Pez Gayard is on sunny and peaceful location. 60 km of blue, red and black slopes
Price per person:
269,00 €

San Martino di Castrozza is an increasingly popular ski destination for Slovenes, Croats and Austrians, within easy reach by cars..
Price per person:
269,00 €